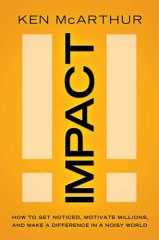 Talk About an Impact!
Imagine how I felt just a year ago and how you can be feeling soon …
Impact: How to Get Noticed, Motivate Millions and Make a Difference in a Noisy World, started out with a bang.
First of all, before it was even written,
Imagine that you study all of the different ways to publish a book.
You look at self-publishing, entrepreneurial publishing and traditional publishing and in the end decide to get a literary agent and publish Impact: How to Get Noticed, Motivate Millions and Make a Difference in a Noisy World, with a traditional publisher.
Even before it's written you ask your friends how many people they would personally endorse your book to.
When you add up the response …
As you write your book proposal, the number grows, by millions more.
You put together a crack team of top-level book marketing and publicity experts to launch the book.
When you approach a top-literary agent …
He signs you up almost immediately.
Together with your agent you fine-tune the proposal and quickly have THREE major publishing companies bidding for the book.
Career Press makes you an offer can't refuse!
You quickly write the book with the help of Glenn Dietzel and Ronda Del Boccio and by May it is published.
Impact hits #1 on THREE best-seller lists!
PR Channel lists Impact at top of "6 Must-Read Books for Public Relations People"
Impact makes the " Top 10 Marketing Books for Executives" and the "Where's your Wow?" Recommended Reading List
So what's next?
It's time to write the next book!
Impact has been an amazing success, but one thing for sure … life never stops and you shouldn't either.
I've been kicking around new book ideas for a while now and what I really want to write about is the real story of Impact.
The story of Impact is the way that we touch each other one life at a time in small ways that may go unnoticed and unrewarded, but still have a HUGE impact on the people around us and all of the people who they touch.
You are the story of Impact!
And I want you to help me write it.
We are all connected.
From a single conversation with three people sitting on a coach in a hotel lobby, you were touched today.
You are part of a growing family that has changed the lives of millions of people, generated millions of dollars in income and saved the lives of many.
And I don't even know half the story.
YOU do!
You know how being a part of the Impact story impacted YOUR life and you may even have a hint of how it impacted the lives of the people around you.
Because it spreads in ways that we can't even begin to imagine, we can't tell the whole story, but we can get the conversation started.
We can measure a small part of the way that we impact the lives around us.
And we should, because …
It's in the measuring of our impact that we realize that what we do matters.
What you do matters, whether you want it to or not.
You make a difference personally in the lives of everyone you touch, even if you'd rather not.
This week I was approached by a publisher who wants me to gather the stories into a book.
Would You Like Co-Author With Me On Our Next Book?
Before you answer, I need to let you know a few things.
I've always believed that we can do so much more working together than we can apart.
Just think of a collaboration like "The Secret" or "Chicken Soup For the Soul."
Can you see how working together creates amazing synergy?
Here's what I'd like you to imagine.
Imagine you write a chapter for our book.
In the chapter, you share how the "Impact Factor" has made a difference to you, what you have learned and how it has spread beyond your life and impacted other people.
Imagine that you have the help of a professional writer and editor to help you through the writing process, to interview you and to create not only a written record of your story, but capture your compelling words in audio and video format as well.
Then imagine that everything else is done for you.
The book is professionally edited, the cover looks beautiful, you are a featured co-author with a wonderful book about to be published.
Then imagine that your book is available both in print AND in a very compelling on-line multi-media version with professionally edited audio and video clips as well as your own personal authors page where you can link to you own backend products and services.
Next imagine that we combine the marketing power of all of the jvAlert partners that we've built for years — those multiple MILLIONS of personal endorsements for the book — a world-class team of publicity and book marketing experts and the synergy of ALL of the co-authors of an amazing book and …
This book goes straight to the top of the best seller lists
Because we are working together as a team.
Imagine the kind of  teamwork  that put "The Secret" into motion.  Imagine the synergy that happens when we work together for a common cause.
So …
Want to Write a Book Together?
I'm not going sit here and blow smoke …
It's easy to dream, but reality is a different story.
You don't just spend an evening writing a quick chapter and suddenly you are blessed with a #1 Best Selling Book.
Here are all the reasons why you may NOT want to be a co-author for this book.
You might hate to write – Although having a professional writer/editor coach you through writing a simple chapter is a GREAT way to start.
You might be constitutionally unable to finish ANYTHING. — You DO have to get the chapter done.
You might have NO story to tell – That's hard to imagine if you've been alive for more than 15 years, but I'm willing to listen if you want to tell me that kind of made-up story (Which proves you are a writer by the way!)
You might not be willing to help us market and promote the book –  that's a real bummer because we only want people who will work together to take this to the top.  You don't have to be an expert at promoting, but you do have to do your share. We WILL have training specifically for everyone who writes a chapter for the book to help them really leverage their new-found celebrity and credibility.
Finally …
Two other key factors.
1.  There are only so many chapters that we can put in this book.
I'm not looking to write an encyclopedia.  I'm looking for a SOLID book with solid content.
After all, this is the sequel to Impact: How to Get Noticed, Motivate Millions and Make a Difference in a Noisy World.
There is NO WAY I'm putting out something that's less than incredible for my next book.
Only the best chapters will be in the finished book and we will NOT include any that are not outstanding.
Absolutely no filler material let in.
2. If you are accepted as a co-author, you will have a financial stake in this project.
I have a financial stake in this project and even more important to me, a REPUTATION stake in this project.
You will too.
Each co-author will invest towards the completed project — and share in the rewards.
There will be amazing rewards!
As you know – or should know – the direct financial rewards from printed book sales are usually minimal even for a best seller.
You don't get rich off of the sales of a printed book in most cases.
That's where the online, multimedia version of the book really kicks in.
Imagine the combined forces of all of the co-authors generating traffic to the multi-media version where profits are much higher and lead generation is at it's best.
Imagine at the same time gaining the credibility and celebrity of being a best-selling print book author and seeing your book on the shelf at the local Barnes and Noble.
Imagine being able to leverage that credibility and celebrity for EVERYTHING that you are doing, while generating a stream of new customers who are eager to purchase your on-going products and services.
That is PRICELESS to you.
I know.
I've been there, done that and life is much better as a published, best-selling author.
There's no better way to get your ideas, products and services out to MILLIONS of people.
In fact, if you are a co-author of this book, your ideas WILL be seen by more people than you ever imagined.
So what do you need to do next?
It's easy!
Tell me what you think you can add to the book and we will go from there.
I'm looking forward to writing a best-seller with you!
But, don't wait too long or this book will be on the shelves before you get your e-mail out.
I enjoy taking action all the way to completion!
All the best,
Ken McArthur
SpeakUpSaveLives.org
TheImpactFactor.com
KenMcArthur.com
jvAlertLive.com
P.S. jvAlert Live San Diego, is where we ALL meet to change lives and grow our businesses.
It's an amazing family of people that YOU can be a part of, but you need to take action — all the way to completion and GET THERE!
It's not enough to THINK about how wonderful and profitable it will be.
You need this to change what's happening in your life and move forward with AMAZING results.
The early-bird special is going on right now, but it's not going to be early for long and the price WILL up soon!